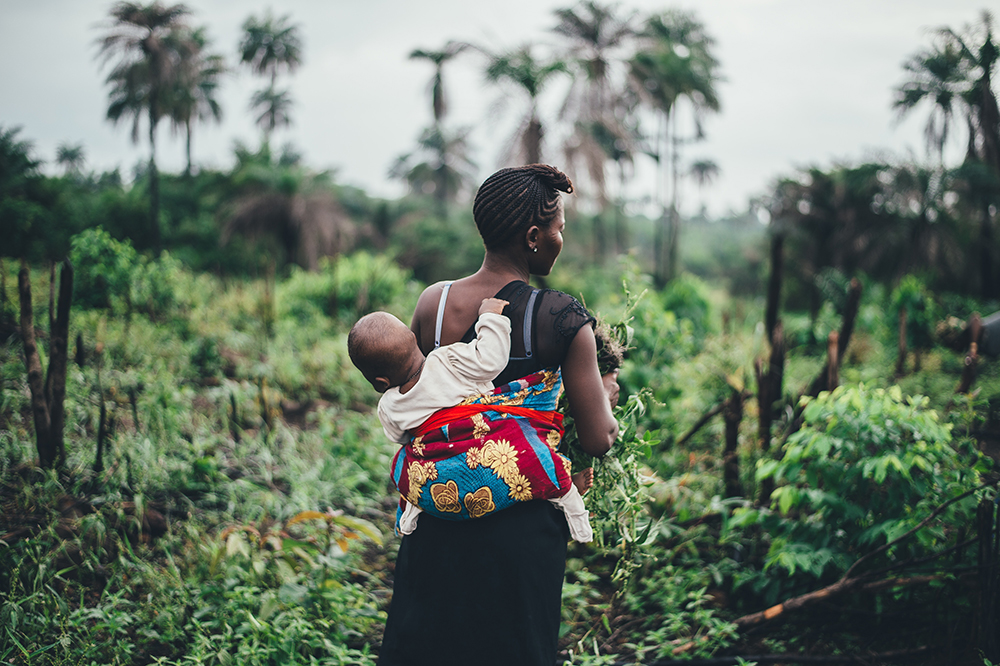 To meet global development goals, protect women's land and resource rights
By the Rights and Resources Initiative (RRI), Landesa, and REFACOF.
Indigenous and rural women comprise more than half of the up to 2.5 billion people who rely on the world's community lands. They manage rural households and food production; play essential roles in the development of sustainable and inclusive rural economies; and are increasingly able to assume responsibility for the management of community lands and forests. As economies and societies shift—and rural men migrate in search of jobs in cities or abroad—women's leadership and management of lands and resources will only continue to grow.
Yet rural women are engaged in the management and defense of their lands without the equal rights provided to men—both in law and in practice.
A recent RRI report analyzed 80 national legal frameworks regulating community forest tenure and found that none of the 30 countries assessed are adequately respecting indigenous and rural women's tenure rights. This means that countries are failing to fulfil their commitments under international conventions such as the Convention on the Elimination of all Forms of Discrimination against Women (CEDAW) and the Sustainable Development Goals (SDGs). A comparative study conducted by the Center for International Forestry Research (CIFOR) in Indonesia, Peru and Uganda, found that even in Uganda, the country with some of the best legal protections for women, women participate little in land formalization processes.

As a result, women's important contributions to diverse sustainable development goals and their unique knowledge regarding forest resources are curtailed by unjust laws, gender-discriminatory practices, and slow progress in the reform and implementation of statutory laws. While community norms vary widely, the persistent inequalities of gender biased social norms can often perpetuate this injustice.
With increased pressures on land due to climate instability and land-based investments, communities must often still fight to defend their homes even where rights are legally recognized. In many parts of the world, governments are threatening to withhold or roll back community land rights to support big-business interests, such as mining, agriculture, or other large-scale projects. In other cases, exclusionary conservation areas are established on community lands, forcing them from their homes in spite of their proven role as guardians of forests and biodiversity.
In some documented cases—such as in the village of Long Ayan in Indonesia—companies have persuaded male community leaders to negotiate community land acquisitions, effectively excluding women leaders from the decision-making process. This threatens the entire community's long-term security to access its customary lands. The role of women in managing their communities' resources makes their voices important not only as a matter of justice but also for the survival of the community. Within this context of increasing land-based investments, ensuring women's leadership and participation in decision-making can help bolster the capacity of entire communities to negotiate with government, investors, or environmental actors—and ultimately to better defend their lands, resources, homes, and livelihoods.
Despite these diverse challenges, the experiences of indigenous and rural women across the world have already demonstrated some of the myriad ways that rights can be secured and entire communities strengthened. In the numerous contexts where rights are under threat, women are increasingly present as front-line defenders. And they are leading the defense of community resource rights in local, national, and global policy arenas.
In Peru, for example, the indigenous women's network ONAMIAP succeeded in advancing the participation of indigenous women at all levels: within community leadership bodies, as part of national land titling projects, and within international climate dialogues. These efforts have helped ensure that the unique conservation knowledge of indigenous women from the Peruvian Amazon is respected and included in climate efforts. In Nepal, advocacy led by women resulted in a decision by the organization FECOFUN—a nationwide network of over 15,000 affiliated community forest user groups—to mandate a 50 percent quota for women's participation in community forest management structures at all levels. Many rural women were therefore able to increase their incomes through forest resources. In India, a multi-stakeholder project spearheaded by a local NGO helped women secure community resource rights under the country's Forest Rights Act (FRA). And across Central Africa, the regional women's network REFACOF has built a successful alliance that includes government members, local women, and traditional chiefs. In Cameroon, REFACOF succeeded in introducing a 30 percent quota for women's participation to REDD+ decision-making structures at all levels—helping to ensure that these programs implement safeguards to protect sustainable resource management and provide benefits to both rural men and women.
These impressive advances should be lauded. However, without adequate international support, resources, and government action to support grassroots networks, close legal gaps, and overcome structural obstacles, this progress will remain at risk. More organizations have initiated programs to support women's land rights, but not enough focus squarely on indigenous and rural women's rights to community lands. At the third international conference on community land and resource rights, women leaders and their allies will gather in Stockholm, Sweden to discuss how to leverage rural women's potential to assert and protect community rights.
By creating a space to share lessons and scale up successful initiatives, we can help ensure that one of the most promising paths toward a more just and stable society—women's agency with respect to their land and resource rights—is supported and strengthened.