Scaling-up Strategies to Secure Community Land and Resources Rights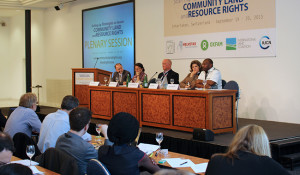 September 19-20, 2013
Interlaken, Switzerland
The first international conference of its kind, the Interlaken Conference brought together a wide diversity of stakeholders – about 180 representatives from 40 countries representing local communities, Indigenous Peoples organizations, governments, private investors, food and resource companies, and development and conservation NGOs. All of these participants have a direct, common, and urgent interest in clarifying and securing the ownership of these lands and resources.
The conference focused on five critical strategies:
coordinating global efforts to map and document community lands;
efforts to legally recognize and advance rights to land;
leveraging private sector interests in securing these rights;
prioritizing the intersection of conservation and community lands; and
establishing these rights as a global priority.
The conference gave rise to several areas of work dedicated to achieving specific goals within the broader objectives of the conference goals. Learn more about these areas of work here.
At the close of the conference, organizers called for a doubling in the amount of land recognized as owned or controlled by Indigenous Peoples and local communities by 2018.
Conference Resources
Final report provides a summary of the main outcomes and discussions from the Interlaken conference, with a focus on the priorities for action developed within five thematic strategy sessions, which ran concurrently and provided the main structure and organization of the conference.
Press release on the outcome of the Conference.
Co-organized by:
Hosted by: