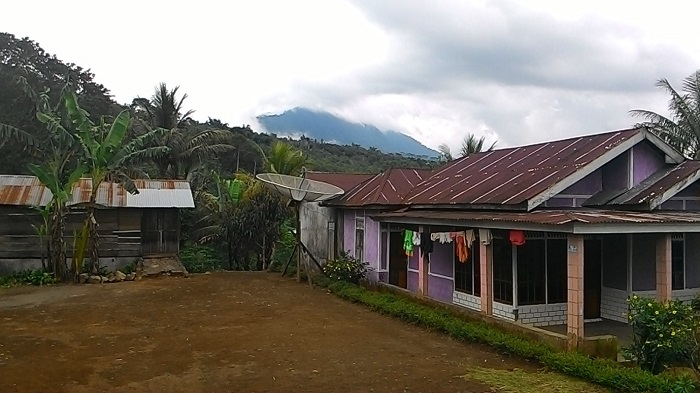 As seen on Landscapes for People, Food, and Nature
They harvested their coffee during the dead of the night, using the faint light from their mobile phones to guide them, trying not to get caught by forest rangers on their nightly patrol. Once, this coffee crop had helped them make a decent living in the forest that they call home in the Bengkulu province on the island of Sumatra. But for more than two decades, they had harvested it in secret, barely making ends meet.
It wasn't always like this. For generations, this forest in the Rejang Lebong district of Bengkulu belonged to the Marga Bermani Ulu tribal clan, who cultivated coffee, palm and nutmeg using sustainable conservation techniques based on their local knowledge of the region. But in the early to mid-1980s, it became part of the large swathes of customary forests in Bengkulu that were arbitrarily converted to State Forests by the government using the pretext of conservation. None of the customary rights of the forest natives were taken into account during this conversion.
As destruction of the forest ensued, the local residents were forced to harvest their traditional crop in secret, frequently criminalized and accused of destroying the same forest they had protected for generations.
Following government control, the local residents were barred from managing and preserving the forest, or sustaining their traditional economy. Soon, owing to mismanagement by government authorities, migrants began encroaching and illegal logging. As destruction of the forest ensued, the local residents were forced to harvest their traditional crop in secret, frequently criminalized and accused of destroying the same forest that they had protected for generations.
Local forest management on the horizon
Now, things finally seem like they are about to change. The Indonesian government recently committed to designating over 12.7 million hectares of forest to local communities for management by 2019. While the area will still fall within state-controlled forests, the government will transfer management and use rights to the local communities, using various social forest schemes such as village and community forests for collective management.
It is a victory tied to high deliverables – and a strict timeline. Under the scheme, these management rights are transferred for up to 35 years. Further, the local farming communities (or producer groups as they are called) will need to demonstrate that they can balance economic development and environmental protection in the forests. If one group fails (either by losing forest coverage or generating insufficient revenue), it will impact all other groups in the village and they may all lose the forest.  The government will evaluate their progress every five years.
Ironically, these stringent regulations stand in sharp contrast to the activities of large-scale industrial plantations and extractive industry concessions in the region, which have destroyed forests repeatedly and with abandon without much accountability.
This month, over 1,200 ha are being officially allocated to four villages in the Rejang Lebong district, facilitated by a local NGO, AKAR Foundation. AKAR has been working for the last four years on an arduousstate-prescribed process of preparing local coffee producer groups for the transfer of management rights. Now, under the Community Forest scheme, these villagers are finally deemed ready to receive some control over their forest. If one group fails, it will impact all other groups in the village and they may all lose the forest.
The village of Air Pikat in the district, with its 1,250 inhabitants, is one of the villages about to benefit from the scheme, though its transfer has not yet started. Mrs. Adilmi Iskaini, the head of the village, recalls: "Before, people would be chased if they took even fallen wood, and villagers will dare to harvest their coffee only during the night. With this new right, my community will be able to develop other activities, like planting fruit trees."
A long slow beginning
Progress in transferring the land, however, has been slow. Barely 18 percent of a previous target set by the former government in its mid-term development plan – to transfer 7.9 million hectares to communities by 2014 – has been achieved so far. The current government in its own plan originally set a target of transferring 40 million hectares to communities by 2019, but that has been reduced down to 12.7 million hectares. Bengkulu itself is far from receiving its share. Its governor recently vowed to resign as a sign of protest if the communities in his province don't receive their transfer soon. In a recent public statement, he alleged that he routinely receives calls from high ranking officers trying to influence him into backing down.
But for the desperate villagers in Rejang Lebong, this is a beginning they have waited for a long time. They are well aware that they will have to demonstrate their capabilities in managing their community forest. To a large extent, they will be living in fear of losing their forest once more if they make one wrong move. Looking ahead, Mr. Dahil, head of one of the producer groups in Air Pikat village says: "What matters now is for us to receive appropriate support so we can pursue sustainable economic development in these forests."
In the meanwhile, the newly designated community forests include the local farmers' coffee trees, and they are delighted. They don't have to light up their phones for night harvests any more.

Anne-Sophie Gindroz works with the Rights and Resources Initiative's Asia program. She is based in Bali, Indonesia.